What are your four 'must-have' pedals? That is what we ask our guests to share with you in our Four On the Floor podcast segment.
Aside from being a truly nice chap, Jake makes some truly outstanding bass guitars. Its tough to create a unique design as a luthier and he nailed it. If you are not familiar with Serek Basses do yourself a favor and check them out. Jake gave us a fantastic interview too! You can hear the episode for yourself right here. Check out Jake's choices for his Four On The Floor.
1. Boss – CEB-3 Bass Chorus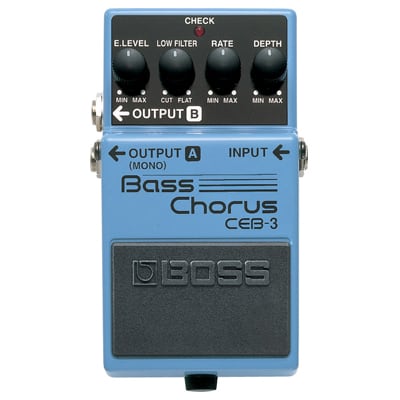 "This is the pedal I have had on my board for the longest. Chorus is my favorite go-to pedal. I use it for juicing up the sound. If I'm playing a lot of chords or playing higher register notes, it gives it extra shimmer; It's not necessarily a goth/cure thing haha. I have not tried a lot of different chorus pedals to be honest because this one has always worked so well for me and has everything I need. It has a separate low filter so you can dial out the low end or keep it in. I keep it in so when the chorus is engaged it acts as a bit of a boost as well. I keep the rate and depth at noon for the most part because it can get real loopy if you put the rate too high. I am also a real big fan of Chris Squire of Yes. He is my favorite bass player of all time. He uses a lot of subtle effects especially on chords and arpeggios, so that is probably where I got my effect inspiration."
Check out the Boss – CEB-3 Bass Chorus
2. Tech 21- SansAmp VT Bass DI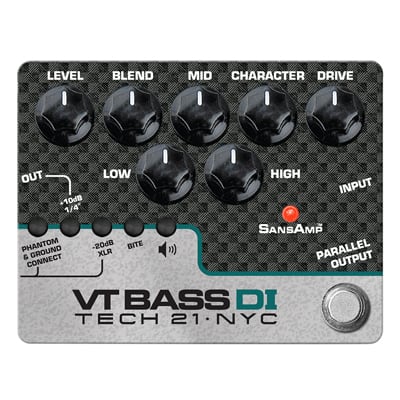 "I always like to use some overdrive and a little bit of dirt. For a long time, i was using the Boss Bass overdrive which sounds great in one particular setting ironically with the gain all the way off. So I wanted to try something different. The VT bass nailed it. It has loads of character with plenty of EQ and tone shaping. and the DI sounds great too if you are recording with it and if you don't have a great speaker cabinet to record that crunch it does a very convincing job.
Check out the Tech 21- SansAmp VT Bass DI
3. Digitech – Bass Synth Wah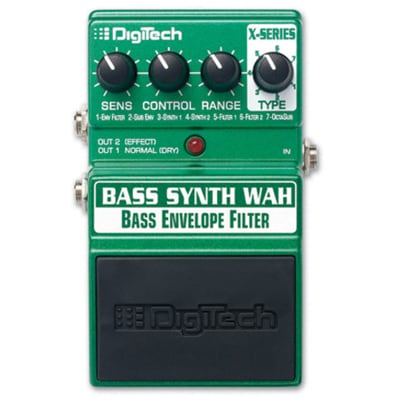 "It's been around for a very long time but probably best recognized in the Daft Punk song "Bowww, Bowww bowww bowww bowww, Boww boww bow bowwww Boww bowww bowww bowwwwwwww…" [Da Funk]. It has all these weird sythny auto wah sounds on it. I don't use it for any of that stuff, but I use it for the sub-octave. It has one of the best sub-octaves for tracking I've ever used and it just sounds fantastic. Its really clean and doesn't color the sound."
Check out the Digitech – Bass Synth Wah
4. Maxon – AF-9 Auto Filter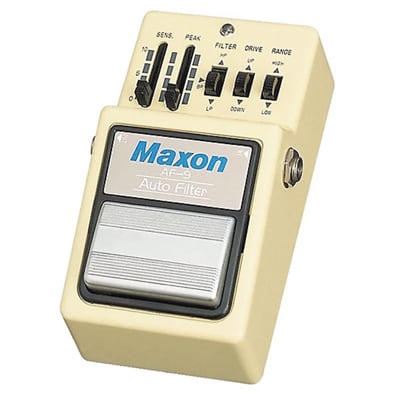 "This is my most recent addition to my pedalboard. Yes, it is an auto wah. I've used a lot of different bass envelope filters recently and so many of them get too squawky and splatty. Or they have wolf notes or the top end is too harsh or there is just something "off" about them. My ideal envelope sound is from Jerry Garcia via the old Mutron. His tone is really expressive but subtle and not too harsh. The AF9 does this and works really well for bass, so I can get a sweeter, midy'er auto wah sound. the sensitivity is really great and it's really expressive depending how hard you play. you can kind of half-open up or really dig in and let the note open up wide. I've been having a lot of fun playing around with this pedal."
Check out the Maxon – AF-9 Auto Filter
---
Huge thanks to Jake for being a guest on our show and please check out Serek Basses. We wish him continued success!